One will find our farm - the "Alpaca-Ranch EN COLORES" - in Gersdorf / Bad Gams. Our main plant is located in this idyllic location in the beautiful Western Styria. On almost 5 ha grazing land our alpacas have the opportunity to move freely, and depending on weather conditions, to seek a shelter or even the new barn with large panorama windows. We are able to offer them a protected, environment, bounded by forest, where they enjoy untouched nature, clean air and fresh mountain spring water.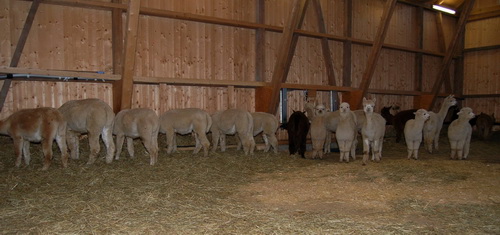 On our second property - EN COLORES Gradenfeld / Wundschuh - we take the advantage to have the opportunity for keeping a small number of alpacas separately from the main herd if needed. Weanlings, guest females during stud services are cared for in a well observed area, or we use it as quarantine station for acquisitions, guest alpacas from customers, etc. The separate management of our two properties guarantees highest biosecurity standards for a modern farm.
We have installed web cams, which allow a 24 hours / per day observation of the whole alpaca herd. State of the art-technology supports us in the optimal care for our alpacas. Especially in the birthing season, it is highly recommended to be informed about the well-being of hembras and crias around the clock.